First posted on spicyip.com on 15.08.2015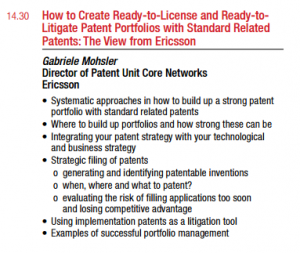 Some time back Ericsson announced a settlement of its pending disputes with True Position and Samsung. In the announcements, in True Position, Ericsson claimed that it "[T]akes pride in its technical leadership in wireless standard setting activities and looks forward to continuing to take a leading role in future 3GPP standard setting, including for LTE-Advanced and future generations of wireless technology." In the Samsung matter, Ericsson claimed that it is, "[C]ommitted to licensing its standard-essential patents on fair, reasonable and non-discriminatory (FRAND) terms for the benefit of the industry. It believes that licensing according to FRAND principles strikes the appropriate balance between incentivizing companies to innovate and contribute technology to open standards and maintaining the overall royalty rates at a reasonable level to allow new entrants access to the market."
In my previous
post
, I had highlighted the pitfalls in portfolio licensing - and recommended a constituent - individual analysis of the portfolio.elements.  This post continues in the same direction and highlights further why it is necessary to do individual patent analysis.
Ericsson is currently being investigated by the Competition Commission of India in three parallel cases over multiple issues, one of which is that it uses the selling price of devices as the royalty base even if the relevant wireless industry standards are implemented in chipsets that sell at a fraction of the price of a smartphone or tablet. The other is use of a portfolio license that bundles SEPs with non-SEPs, even though there may or may not be a charge for non-SEPs. There could be a wide spectrum of reasons for it - and some of it may pertain to litigation strategy in different geographies.
Thankfully, one of Ericsson's director of core patent units, Gabriele Mohsler explains in one of his presentations at C5 Business - Hi Tech Patent Litigation and IP Strategies, the reasons that why Ericsson chooses to litigate not just SEPs but other patents as well, is to compel parties to come to negotiations.  It is perhaps not surprising that Ericsson's aim is not to get litigation to an end, but to get negotiations going.


It should not be to anyone's surprise that Ericsson uses its implementation patents to file patent infringement litigation which, in turn, is intended to pressure Ericsson's opponents into acquiescing to Ericsson's bargaining position regarding the terms of a license.  Whether or not the litigation is frivolous is anyone's guess!  Also, once implementation patents are injected into a litigation involving standard essential patents, it is but natural that there is a licensing terms are concluded for both.