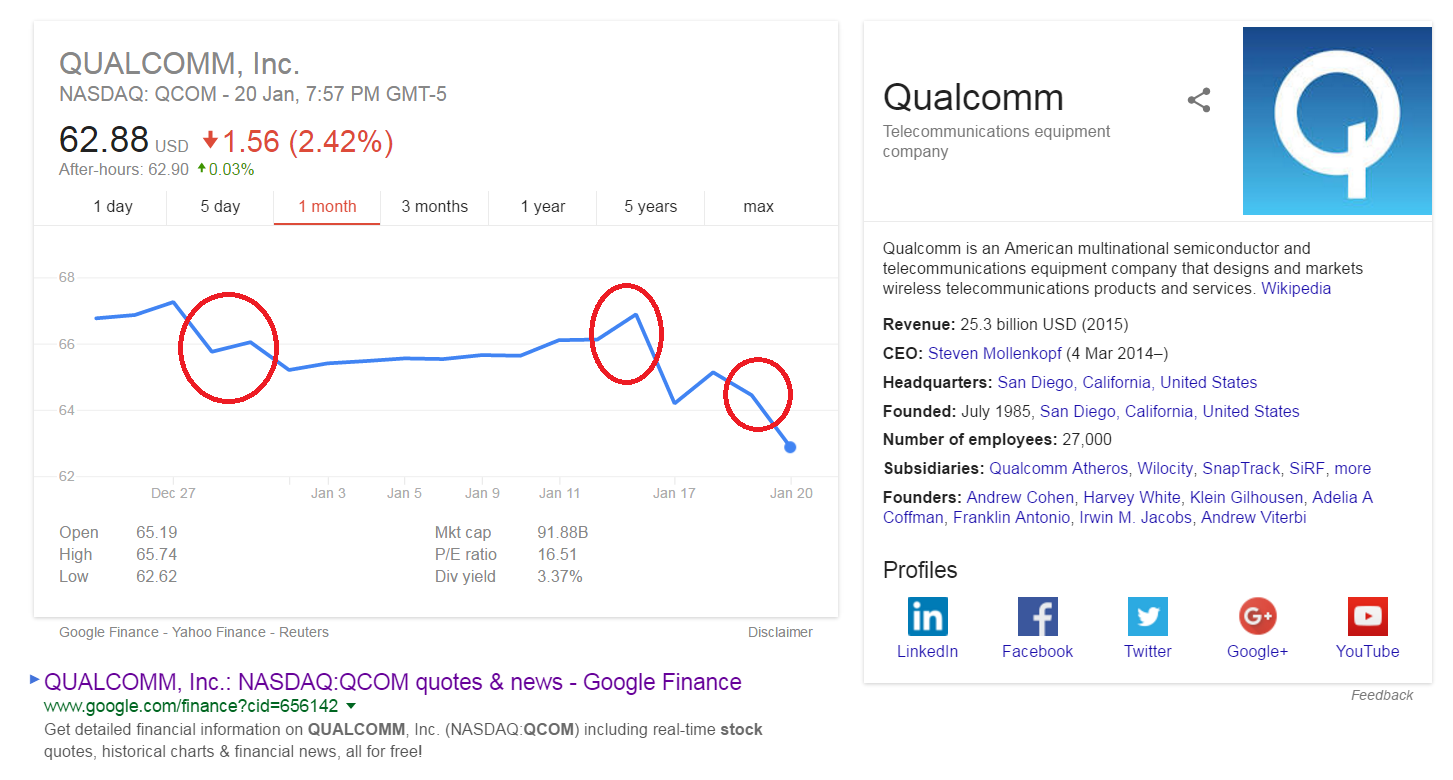 This (long) post is about Qualcomm.  Qualcomm has a business model that is based on IP, whether it is IP creation (SEP or manufacturing related) or IP licensing.  It has been the historical practice in the technology industry that licensing was, and per Qualcomm and related parties, still is, done on end value of device.


Qualcomm, Ericsson, and Nokia are three top players in the SEP licensing domain and unsurprisingly hold similar views as their business model is SEP licensing.  For example, all three gave similar statements to the effect that they will not contribute to the IPR, under the new IEEE policy post February 2015, when smallest component value was inserted into the IEEE rules.


This issue of where to license in the value chain, as our readers know is a hot button.  In India, Ericsson is conducting multiple litigations on this very issue.  Additionally, Qualcomm and Ericsson have a licensing / revenue sharing arrangement in place where Qualcomm gets money from manufacturers in China for IPR and Qualcomm pays Ericsson (and several others) as per their share. See my post on this arrangement
here
.  In short, Qualcomm is deeply involved in the Indian market.   It sponsors several events in India and even some competition law programs at some law schools.
Recent events in the past weeks are set to unravel Qualcomm's (and related parties) positioning in the industry.  First the Korean anti-trust authority issued a huge fine against Qualcomm, then the US FTC filed an action against Qualcomm, quickly followed by a class action law suit on grounds similar to the US FTC action.  This was followed by a complaint by Apple against Qualcomm.  All are covered in reverse chronological order of occurrence in this post.


Qualcomm has consistently maintained that "intellectual-property-rights policies of the cellular standards organizations do not require licensing at the component level." To this end, it has engaged in several opinion building efforts across the globe at various institutions.  In India, it has sponsored programs in intellectual property and competition law at the National Law University, Delhi and the Jindal Global Law School.


Given these matters, it is highly unlikely that these public opinion building efforts will yield the desired fruit. Rather, the Competition Commission of India and even Europe and Taiwan may take suo moto notice of complaints against Qualcomm.  This is because of the explicit provisions under respective competition acts – acts that arise outside the jurisdiction but have an appreciable adverse impact on the relevant market in the jurisdiction.


To summarize the post, several actions by the anti-trust authorities indicate that Qualcomm has charged royalty on end product values, which includes duties, taxes, etc. – i.e. things that have no relationship with the invention.  It has continued to charge for patents that have expired, etc.  For example, the CDMA technology is of 1995 vintage.  All patents related to CDMA have expired in 2015. However, Qualcomm continues to charge for them.


I must mention here that the similar position is in GSM area- GSM V2.0 standards came out in 1995 – i.e. all patents relevant to GSM expired in 2015, the technology having passed on to the public domain.  Patents for GPRS and EDGE (GPRS is an improvement to GSM, and EDGE is an improvement to GPRS) expire in 2017 and 2018 respectively.  But Ericsson and others continue to demand royalty for GSM patents. In all the matters in Delhi High Court related to Ericsson, royalty has been charged and paid / deposited in court, for GSM.


Part I: Apple complaint against Qualcomm


On 19th January, Apple sued Qualcomm in federal district in Southern California, claiming that Qualcomm uses its dominant position to collect "tributes" on every iPhone improvement and that it withheld nearly $1 Billion owed to Apple because it cooperated with antitrust investigators in South Korea.


Apple fired the salvo quickly after the FTC filed its own action claiming Apple has been overcharged by billions due to Qualcomm's refusal to follow its commitments of licensing SEPs on FRAND terms.


Apple states "For years, Qualcomm has abused its business relationship with Apple and blocked competitors from selling chipsets." ….."Qualcomm's recent effort to cover its tracks – by punishing Apple for providing truthful testimony at the request of government regulators – underscores the lengths to which Qualcomm will go to protect its extortion scheme."


Apple has 35 claims against Qualcomm, including breach of contract, bad faith, patent non-infringement, recovery of patent royalties, monopolization and unfair business.  Apple seeks damages for missed payments and an injunction compelling Qualcomm to license its patents on fair terms and to stop engaging in anticompetitive conduct.


Apple complaint can be downloaded from
here
.
Qualcomm issued its views (click
here
), and states "While we are still in the process of reviewing the complaint in detail, it is quite clear that Apple's claims are baseless. Apple has intentionally mischaracterized our agreements and negotiations, as well as the enormity and value of the technology we have invented, contributed and shared with all mobile device makers through our licensing program. Apple has been actively encouraging regulatory attacks on Qualcomm's business in various jurisdictions around the world, as reflected in the recent KFTC decision and FTC complaint, by misrepresenting facts and withholding information. We welcome the opportunity to have these meritless claims heard in court where we will be entitled to full discovery of Apple's practices and a robust examination of the merits…"
Part II: United States Fair Trade Commission complaint


The US Federal Trade Commission (US FTC) on 17th January, 2017 filed a complaint (download
here
) in a federal district court in California charging Qualcomm with abusing it position to maintain its monopoly in the supply of chipsets used used in cell phones.  The FTC complaint alleges that Qualcomm: "
Maintains a "no license, no chips" policy under which it will supply its baseband processors only on the condition that cell phone manufacturers agree to Qualcomm's preferred license terms. The FTC alleges that this tactic forces cell phone manufacturers to pay elevated royalties to Qualcomm on products that use a competitor's baseband processors. According to the Commission's complaint, this is an anticompetitive tax on the use of rivals' processors. "No license, no chips" is a condition that other suppliers of semiconductor devices do not impose. The risk of losing access to Qualcomm baseband processors is too great for a cell phone manufacturer to bear because it would preclude the manufacturer from selling phones for use on important cellular networks.
Refuses to license standard-essential patents to competitors. Despite its commitment to license standard-essential patents on FRAND terms, Qualcomm has consistently refused to license those patents to competing suppliers of baseband processors.
Extracted exclusivity from Apple in exchange for reduced patent royalties. Qualcomm precluded Apple from sourcing baseband processors from Qualcomm's competitors from 2011 to 2016. Qualcomm recognized that any competitor that won Apple's business would become stronger, and used exclusivity to prevent Apple from working with and improving the effectiveness of Qualcomm's competitors.
The FTC states that it was seeking a court order to undo and prevent Qualcomm's unfair methods of competition in violation of the FTC Act. The FTC asked the court to order Qualcomm to cease its anticompetitive conduct and take actions to restore competitive conditions.


Interestingly,the US FTC voted 2-1 to file the complaint.  Republican Commissioner Maureen Ohlhausen dissented and issued a
statement
.  She is likely to become the next head of the FTC after the current chairman ( Democrat Edith Ramirez) departs in February, 2017.  Unsurprisingly, Qualcomm in its statement uses the dissent as its defense.  See statement
here
.
The coming FTC administration may or may not be swayed to change course.  But for reasons given below including parts III and IV of this post, even if FTC filing is withdrawn, Qualcomm will continue to fight the same issues elsewhere.


In the FTC complaint, paragraph 77, it is stated:


a. Qualcomm's royalties are disproportionately high relative to the value contributed by its patented inventions, and often are several times higher than the royalties of other SEP licensors that have made similar technical contributions;
b. Qualcomm has continued to calculate royalties as a percentage of a handset's price, even though handsets today offer a number of features—including cameras, high-resolution touch-screen displays, powerful applications and graphics processors—other than cellular connectivity;
c. Qualcomm's standard royalty rate has not fallen, even though many of Qualcomm's patents related to CDMA technology have expired; and
d. Qualcomm has required OEMs to grant Qualcomm cross-licenses (in some cases, to both SEPs and non-SEPs), often with pass-through rights to other OEMs.
These issues exist independent of the FTC complaint (see parts III and IV below) – in my view the new FTC administration, even if taking the most conservative view, would work on principles of harm to competition / fair competition rules.  Conservative principles and harm to competition principles can co-exist.


Part III: Consumer Class Action:


On 18th January, a consumer class action law suit was filed in California on the grounds that consumers had to pay extra / inflated prices for cellphones as Qualcomm's licensing practices increased costs for phone manufacturers.  As is typical of US legal system, more such complaints are likely, whether or not they succeed.  The case is Jordie Bornstein et al v. Qualcomm Incorporated, case number 5:17-cv-00234, filed in the U.S. District Court for the District of Northern California.  Both the FTC's case and these class action cases, raise the same issue.  I will upload the complaint on the site when the complaint is available.


Part IV: Korean FTC Fine and Guideline


In the last week of 2016, the Korean Fair Trade Commission ("Korean FTC") fined Qualcomm, about $850 Million for antitrust violations regarding Qualcomm's failure to license its Standard Essential Patents ("SEP") on Fair, Reasonable and Non-Discriminatory ("FRAND") terms.  This is the largest fine ever to be imposed by the Korean FTC.


The decision makes it clear that the Korean FTC views SEPs / FRAND commitments made outside Korea (but having an impact in Korea) under its jurisdiction.  Apart from the fine, the Korean FTC issued a remedial action report.  Qualcomm must enter into negotiations with interested chipset makers; there is a prohibition against linking chipset sales with patent license contracts; if requested by mobile phone companies, to renegotiate some previously signed licensing contracts.


It is clear that the decision is based on Qualcomm's global business model, rather than limited to Korea.  I had in a previous post highlighted the problem with portfolio licensing as having an extraterritorial reach, on this blog,
here
.
The Korean FTC's decision is very different from the one issued in 2014 by the Chinese Antitrust Authority.  The Chinaese National Development and Reform Commission had imposed a fine of ~ $ 975 Million on Qualcomm for alleged violation of the country's Anti-Monopoly Law but was limited to the impact on Chinese companies and Chinese consumers.  In China, Qualcomm had agreed to a lower royalty base for sales limited to China.


An (unofficial) English translation of the decision can be downloaded from
here
.
The ramifications of the decision of the Korean FTC alone could be huge for Qualcomm as other competition agencies, including our CCI and the Taiwanese AntiTrust authority may also take similar views as the Korean FTC.


Qualcomm has publicly states that it plans to fight any attempt by the KFTC "….[T]o regulate intellectual property rights granted by other countries, or activities outside of Korea."  Per Qualcomm the Korean action is in direct conflict with international law priniciples.  See Qualcomm press release
here
.
In my view, such an attempt will backfire – the test is not whether the activities arose outside Korea: it is whether the test has "appreciable adverse effects on competition" in Korea.  A similar clause is
Section 32
, The Competition Act, 2002.
There is the story of a "lie" becoming the truth if the lie is spoken a 100 times.  If interested parties speak in collective voice that any discussion on the base makes a party an unwilling licensee, then it is the case that willingness cannot be unilateral – it takes two parties to disagree. The licensor must be willing to discuss terms that are fair and not impose unilateral terms.  Sadly, in India, the reverse is true and courts have so far looked at licensees as being unwilling.  Most of the issues that have been raised in the SEP wars have been temporarily adjudicated against the licensees.


To conclude, another is the story of the truth just wearing its boots, and the lie reaching half way around the world. The actions by the Korean and US anti-trust authorities may have been delayed. But better late than never!!


Disclaimer: I. as a lawyer, advise several clients in the technology domain and particularly in SEP licensing and FRAND issues.